Spanish Teacher at Sebastopol Charter 0.73FTE (grades 1-8)
The Sebastopol Independent Charter School (SICS) Spanish Teacher (ST) is a position that reports directly to the SICS Executive Director. The ST educates his/her students in an environment and manner that nurtures and guides them, with great consideration for the needs of each individual child and the class as a whole.  The ST will devote special attention to academic excellence, academic and developmental differences, developmentally appropriate curriculum, thorough lesson preparation, presentation and classroom management, teaching social and community skills, music, poetry and special education concerns. The ST will work as much as possible from the indications of Waldorf philosophy and integrate Waldorf methods with other current best educational practices, including Common Core Standards.
Student Instruction
The ST provides a comprehensive Spanish program for grades 1-8 students in a manner that nurtures and guides them, keeping in mind the needs of each individual child and the class as a whole. The ST provides a level of instruction based on each student's reasonable achievement potential by drawing on and valuing students' backgrounds, interests, temperaments, learning styles/needs, and social/emotional development through lesson preparation and presentation and classroom management.  
Classroom Community
The ST creates a community within the classroom through the nurturing of social/emotional development and interpersonal communication and problem-solving. The ST demonstrates and models respect, responsibility, acceptance, tolerance of diversity, compassion, and understanding. The ST teaches appreciation of physical surroundings by creating a beautiful and orderly classroom environment prior to the start of the school year and by engaging the students in the daily tasks of maintaining a clean, orderly, and beautiful place in which to learn. 
The position requires a single-subject credential in Spanish and you'd be on the certificated teacher scale of pay ranging $54K-$76K.
Please send your resume, letter of interest and three references to Chris Topham, Executive Director, at ctopham@sebastopolcharter.org.
Apply
Your application has been successfully submitted.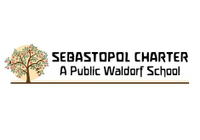 A Public Waldorf School