Physical Education Teacher and Athletic Director
Sebastopol Independent Charter School
Physical Education Teacher and Athletic Director Position
(Start August 1, 2023)
We're looking for a physical education teacher to teach physical education and games in grades 1-8. The teacher will teach 18 physical education periods per week. Grades 1-8 have two periods per week for age-appropriate games.
The position also includes an "athletic director" component, which requires sports coaching for grades 6-8 during after-school hours. We have after-school basketball and volleyball. There will also be a few athletic events to coordinate, such as 5th grade regional Pentathlon, 6th grade Medieval Games and track/field for grades 7 and/or 8. The athletic director will be asked to coach volleyball in the fall, basketball in the winter and spring. The specific coaching duties will be coordinated with the executive director.
Alternatively, it's possible to only pursue the Physical Education Teacher position for a 0.73FTE and we could outsource the Athletic Director position. If you prefer to only teach physical education without the Athletic Director component, please specify this in your letter of interest as part of your application.
In this position, we value experience leading children in developmental movement exercises, games, and general sports and coaching experience. We offer a competitive compensation package with benefits. The position is full-time (PE Teacher + Athletic Director) or part-time (PE teacher only). Preferably, a candidate has a California single-subject teaching credential in physical education, or enrolled in a program pursuing that credential.
Please send your resume, cover letter and at least two references (with contact information) to Chris Topham, Executive Director, ctopham@sebastopolcharter.org.
Sebastopol Independent Charter School is a K-8 charter school. We have a 20-acre campus, including an outdoor basketball court, outdoor volleyball court, soccer goals, sports field and track. We have a multi-purpose hall for indoor games when it rains. Our school has about 280 students with most of the classes having 30 students in grades 1-8. We are located in the small city of Sebastopol, in beautiful Sonoma County.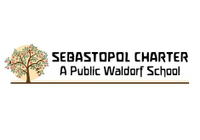 A Public Waldorf School